"There is a point where, in the mystery of existence, contradictions meet: where movement is not all movement and stillness is not all stillness; where the idea and the form, the within and the without, are united; where infinite becomes finite, but not." - Rabindranath Tagore

Embodied Mindfulness Leadership Training
The Embodied Mindfulness Leadership Training is an in-depth immersion into the practice and theory of Embodied Mindfulness as developed by Jamie McHugh.
The training is conducted in three modules online to satisfy various interests and degrees of study. Module 1 can be taken on its own.

Contact hours for each module can be applied to the total hours needed for independent track registry as a Somatic Movement Educator through the International Somatic Movement Education and Therapy Association (ISMETA). See guidelines HERE
Module 1 guides you in the complete Embodied Mindfulness protocol within a 3 month period (70 hours)
Module 2 prepares you to guide individuals and groups (70 hours)
Module 3 supports your teaching out in the world through supervision and leads to certification (40 hours)
Embodied Mindfulness builds on traditional mindfulness practice by adding somatic awareness and participatory action, making the art of sitting more body-centered and interactive. Therapists, life coaches, yoga and movement teachers of all types, as well as people seeking more calm and ease in their lives can benefit from this comprehensive, integrative approach to the body and its expression of stillness.
Successful completion of all three modules leads to certification as an Embodied Mindfulness practitioner.

Certified Embodied Mindfulness practitioners will be listed and linked to on the Somatic Expression website, as well as featured in a profile once in the monthly Somatic Expression newsletter. Certified practitioners are also eligible for compensation as assistants in future trainings.

Training fees for all three modules with early registration discounts is $1,795.
Payment Plans and partial scholarships based on need available - inquire here


For information about content, costs and dates

For module 1, go here

For Modules 2 and 3, Go here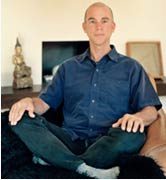 "When I teach this work, I see this seemingly simple practice excite other people; they deepen into their awareness and attention to movement in themselves, and allow their curiosity to lead them and give them permission to experiment on their path of experiencing sensation."
- Judith, Somatic Movement Therapist